Banking as simple as sending a text
Want to know your balance quickly? Just text us and we'll text you back! First Bank's Text Banking service is an easy and convenient way to request and receive account information via text messages. No need to login, and it's just as secure as our other services.

How to Sign Up for Text Banking
Step 1: Navigate to First Bank Online Banking and log in
Step 2: Select Options from the Menu Bar
Step 3: Select Mobile Settings then Text Mobile Settings from the Sub Menu Bar
Step 4: Check the box for Enable text access for your mobile device
Step 5: Check the box for Accept First Bank Text Banking Terms & Conditions to consent after reading
Step 6: Enter your wireless telephone number and Select Your Wireless Provider
Step 7: Select any accounts you would like to have text access to
Step 8: Click Submit
Upon completion, you will receive a text message confirming your enrollment. Respond Yes to this text message and save our number for easy access.(1)


Simply text commands to us at 89549 using our short codes
BAL
Returns available balance on all enrolled accounts
BAL MOBILE SHORT NAME
Returns available balance on a single account
HIST
Returns four most recent transactions for all enrolled accounts
HIST MOBILE SHORT NAME
Returns four most recent transactions for a single account
HELP
Returns command references for text banking
STOP
Disables enrollment for text banking


To use our Text Banking service, you must:
Be a First Bank account holder and registered user of Online Banking
Have a mobile phone that supports (SMS) text messaging

(1)

Mobile Internet data charges may apply as well as text messages charges. Contact your mobile service provider for details.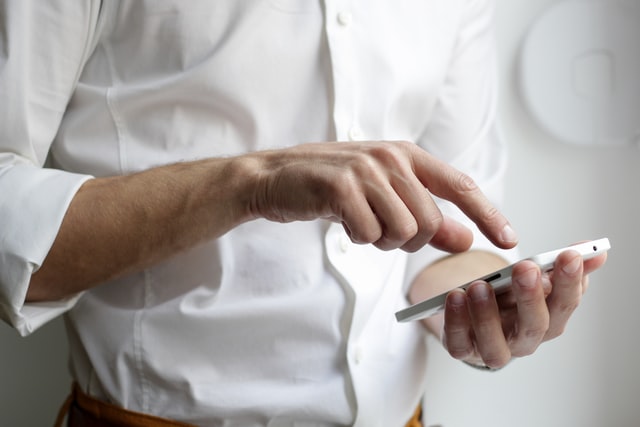 Why go to the bank when you can hold it in your hand!
Using On the Go Mobile you have banking in the palm of your hand. Checking balances, paying bills, and ever depositing checks! See all the other amazing benefits below.