Here to serve you
First Bank's team of Market Presidents serve the people, businesses, and communities in each of their respective towns. Our Market Presidents are connected, passionate, and full of resources. They're here to answer your questions and set you up for success. Connect with your local Market President today, and build a relationship with the team that is always in your corner.
Curtis Butler - Magnolia / Osyka | NMLS # 586172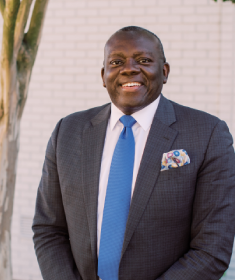 A seasoned financial expert and community servant, Market President Curtis Butler serves Magnolia, Osyka, and the surrounding South Pike County area with a spirit of humility and philanthropy. Butler has been part of the First Bank team for over twelve years and has been in the banking industry for over thirty years. "
I was born in Summit and have spent most of my life in Pike County,
" Butler said, "
Here, people help each other out. I've always come across people who have gone out of their way to help me, and their giving spirits have inspired me to help others in this community be financially and personally successful.
"
In 1988, Butler graduated from North Pike High School as its valedictorian. He went on to graduate from Southwest Mississippi Community College, the Oklahoma School of Banking, and the Louisiana State University School of Banking. In the South Pike County market, Butler focuses on lending, community-focused banking, and financial education events. "When members of our community are financially literate, they can empower themselves to be successful," Butler said, "Coming together and helping people in our towns achieve their financial goals is what drives me every day."
A dedicated Jehovah's Witness, Butler lives his moral belief in philanthropy. Butler is proud to be an active part of the community he calls home, and he currently serves on the boards of the Boys and Girls Club of Southwest Mississippi, the United Givers of Southwest Mississippi, the Pike County Mississippi Scholars, and the McComb Creative Economy Partnership. Butler is also the treasurer of the McComb Lions Club and an advisory board member for the Southwest Mississippi Children's Advocacy Center. Butler and his wife Aida have no children of their own; however, they are the favorite aunt and uncle to their nieces and nephews, Abi (Abigayle), Ellie (Maryella), KJ (Kirby Butler, II), and Kolby.
---
Andrew Johnson - Hattiesburg | NMLS # 5500393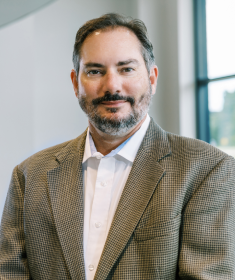 With over 20 years of financial and banking experience, Andrew Johnson leads our Hattiesburg market with a passion for helping members of the community achieve their financial dreams. Johnson oversees all operations of the Hattiesburg market, and he specifically develops and runs our construction loan department. At First Bank Hattiesburg, Johnson is able to help build the place he calls home. "
I'm in the business of making people's dream homes become reality,
" Johnson said. "
Our construction loans are making families happy and giving our community more spaces to thrive.
"
After graduating from the University of Southern Mississippi with a Bachelor of Science in Business Administration, Johnson went on to work for several commercial banks, where he oversaw large teams of people and managed millions of dollars in portfolios. In 2017, Johnson joined First Bank as our Senior Vice President and manager of our construction lending division. During his time at First Bank, Johnson has handled residential construction loans for Hattiesburg and Jackson; monitored construction and development progress for each loan in his portfolio; collaborated with builders, realtors, and mortgage loan officers to ensure an open line of communication for mortgage referrals; and grown and managed a $25 million construction loan portfolio.
As Market President of First Bank Hattiesburg, Johnson is honored to work with both upper-level bank management and members of the community to create better banking and, by extension, better lives. "At First Bank, we are a close family—from back office support to our CEO," Johnson said. "I can call our CEO at any time with questions or ideas, and he's ready to listen. My clients know they can expect the same from me. I'm here for them."
Johnson stays involved in several organizations outside of First Bank, particularly the Mississippi Home Builders Association, Jackson Home Builders Association, and Greater Hattiesburg Area Home Builders Association. He was also awarded the 2018 HBAM Associate of the Year Award, the 2019 GHHBA Associate of the Year Award, and the 2019 NAHB Spike Award. 
"
I'm honored to be a part of the greater Hattiesburg community,
" Johnson said, "
And I can't wait to see what we build together in the years to come.
"
---
Bill Vance - Rural Markets | NMLS # 586181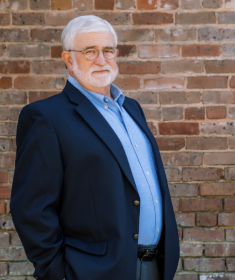 An experienced banker with a heart for people, Market President Bill Vance serves Summit and the surrounding community with a tireless dedication to helping people and businesses achieve their dreams. Vance has been with First Bank for over 18 years, and, in his current role as Market President, he enjoys seeing families grow and thrive with First Bank's support. "
I've been in the banking business for a long time,
" Vance said, "
And nothing beats the feeling of knowing I've helped somebody take that next step toward success.
"
Vance graduated from Mississippi State University with a bachelor's degree in banking and finance; he then went on to attend and graduate from the University of Mississippi School of Banking and the Louisiana State University Graduate School of Banking. Since the beginning of his career, Vance has known that local banking can make a difference in the community. "Local bankers helped me and my family when I was young," Vance said, "I knew that I could help other families and businesses if I went into banking, so that's what I did. It has been more rewarding than I ever could have imagined."
A dedicated family man, Vance appreciates the family atmosphere that First Bank provides its customers and staff. "To me, nothing is more important than family," Vance said, "And at First Bank, that's exactly what we are: a family. We try to treat our people how they deserve to be treated, which means we go the extra mile to help them succeed." Outside of the office, Vance can be found at home with his wife, Paula, or spending time with his sons, Will and Josh, or his grandchildren, Conner and Claudia (CC).
---
Brad Whitaker - McComb | NMLS # 1532878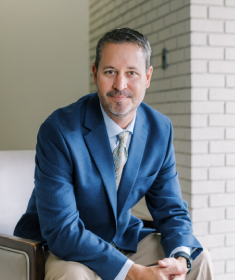 Market President Brad Whitaker is responsible for overseeing all of First Bank's commercial loans in the McComb banking center, where he is also responsible for growing a deposit base and, most importantly, developing relationships with members of the community. "As Market President, I am honored to be the face of First Bank McComb," Whitaker said. "This role allows me to be out in the community, or at virtual events, where I can get to know and support the people of Pike County."
After graduating from the University of Southern Mississippi with a Bachelor of Arts in Communication Studies with a minor in marketing, Whitaker went to work in the golf world before joining the ranks at First Bank. He was a Class A PGA golf pro for 15 years, and for nine years he served as the head golf pro at Fernwood Country Club in McComb. From there, Whitaker became an insurance agent at Pike County Farm Bureau, where he developed many valuable relationships in his eight-year tenure. "My path to banking was certainly unconventional," Whitaker said, "but in the end, it all makes sense. Being a golf pro requires patience, precision, and a heart for hospitality. All of those skills translate well into my Market President role at First Bank."
In McComb, Whitaker hopes to continue lifting up the community he calls home. "McComb has such an incredible community, and I'm excited to learn more about our citizens' financial goals and help them achieve them." An avid hunter, family man, and member of Centenary United Methodist Church, Whitaker enjoys spending time with his wife, Melanie, and their two children, Caroline and Bradley.
Jeremy Winborne - Brookhaven | NMLS # 1424302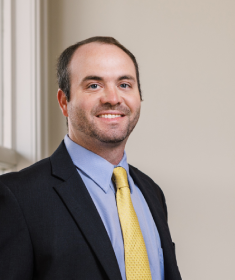 A people-person with a mind for numbers, Market President Jeremy Winborne serves the Brookhaven banking center with a servant's heart for his community. Winborne oversees commercial loans here in Brookhaven, where he is also responsible for promoting branch growth and, most importantly, developing relationships with local business owners and community members. "
Brookhaven is my home,
" Winborne said. "
It's where my family and I have set down roots. I am honored to serve the community here because these people are my friends, my family, and the fabric of my life.
"
After graduating from Mississippi State University with dual bachelor's degrees in banking and finance as well as real estate finance, Winborne returned to Brookhaven, his hometown. Here, he worked in agricultural lending before joining the First Bank Brookhaven team as a senior vice president and commercial lender. In his current role as Market President, Winborne takes joy in saying 'yes' to community members' financial goals. "When I worked in agricultural lending, I would meet with farmers on their land and learn about what they hoped to accomplish through the loan process," Winborne said. "That's what I love about working for First Bank: I get to meet people where they are and help them get where they're going."
A lifelong resident of Brookhaven, Winborne considers First Bank a place where the community can form and accomplish its goals. "At First Bank, you know you've got a team of people on your side," Winborne said "We're not just your bankers; we're your church friends, your little league coaches, and your neighbors." In his spare time, Winborne serves as a certified guide for the Catch a Dream Foundation, an organization that provides terminally ill children with the hunting or fishing trip of a lifetime. He also takes Wounded Warriors on hunting and fishing trips. When he isn't in the office or enjoying the outdoors, Winborne is happy at home with his wife and two young daughters. "They're the reason I do what I do," Winborne said. "If Brookhaven businesses and residents are thriving, that means my family is, too."